Pet Buddy is a one-of-a-kind online store that offers a new generation of pet care. It is aimed at taking the burden off the shoulders of pet owners by solving many of their pain points related to pet care.
Pet Buddy wanted to take a share of the fastest-growing subscription base ecommerce market by offering a one-stop place for cat and dog lovers.
Personalized pet's diet
Monthly boxes
Online vet consultations
Medical record
Reminders for important events – like vaccination, etc
and many more
The challenge
AirDesigns led strategy, concepting, design, and development for the new Pet Buddy subscription platform. We aimed at solving the fact that the subscription economy has staggered because UX patterns aren't transparent.
If users understand and feel in control with the subscription they're signing up for, they're more likely to sign up and stay signed up early on. A priority for us was making an experience where skipping, adjusting, or even pausing the monthly box was at the forefront of the experience, never buried at the bottom of an account screen.
Our reputation for building digital retail experiences, along with our track record for creating e-commerce that customers use, again and again, has been invaluable for Pet Buddy as an early-stage company. They had an idea, but they weren't sure how to best approach it, and they used our experience to set a new bar for designing and building a custom WordPress experience in a way no other brand is doing.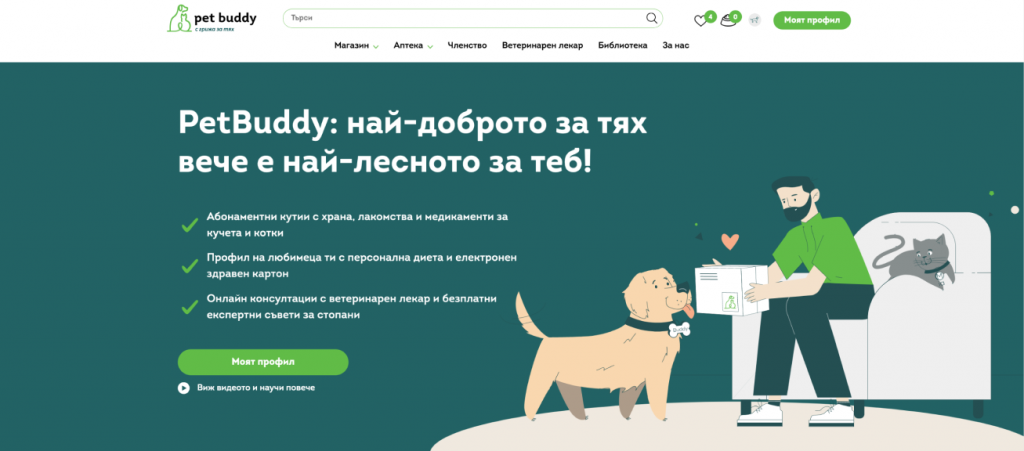 Not a simple subscription service but rather a complex platform
It is a revolutionary concept that offers full flexibility and opportunity for the pet owners to decide for themselves what and when to purchase. The store offers both individual purchases and monthly boxes on a subscription basis.
The boxes are fully customizable so that every pet owner can make their own box. Every month, the pet owner should approve the box in order for it to get delivered. The user has full control over the subscription - he can cancel any time, he can reschedule the box for later delivery, he can choose the products in the box, he can add product for one time delivery.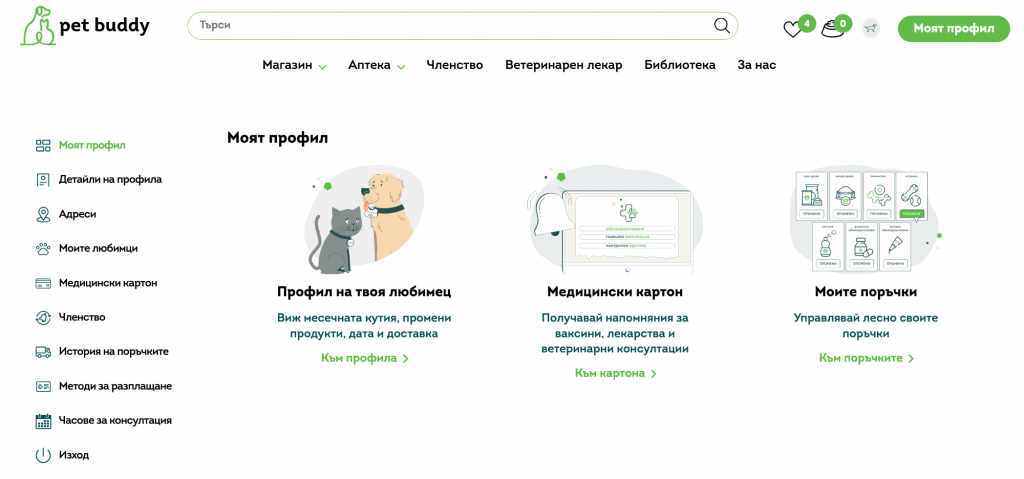 Customizable Monthly boxes
All the products in the box are curated for the pet's needs and selected to maintain their excellent health. Based on the pet's characteristics, the pet owners receive a highly personalized monthly box that takes into consideration the food preferences, the needed quantity of food for a month, plus everything else – medication, toilet care, etc.c.
The monthly box contains
Dry food - calculated according to the weight, age, and diet of the animal
Wet food – again calculated according to the pet's characteristics
Toy and Treat - those categories change every month
Medicines - for internal and external deworming. Once the monthly box is delivered, the medications are automatically added to the medical record of the pet so that Pet Buddy can send notifications when it's time to deworm again
Hygiene products like litter box filler for cats or poop bags for dogs
All products in the box could be changed, and a whole category could be removed.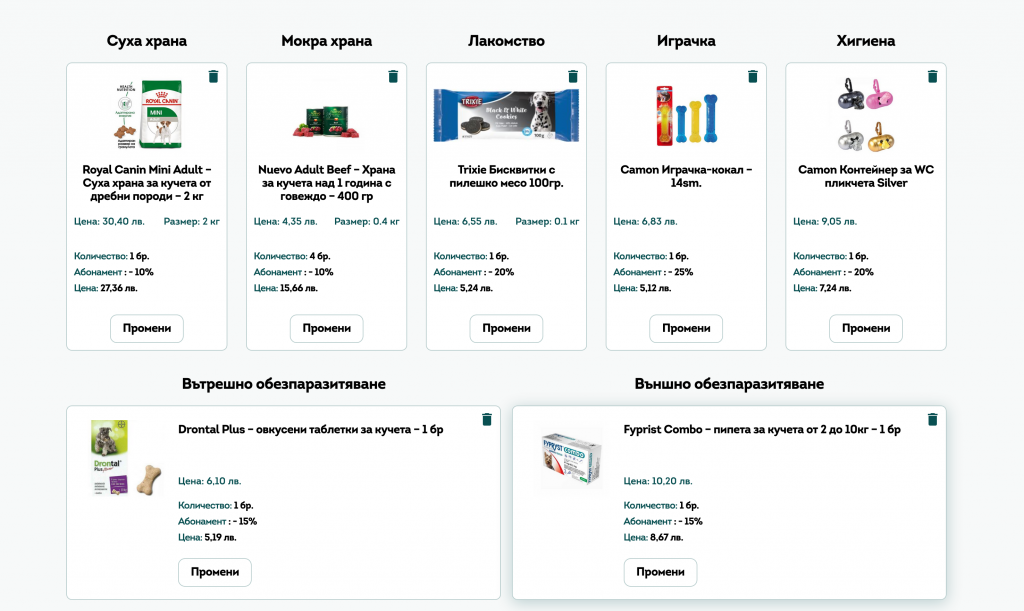 Recommendation Engine
The carefully curated products and medications suggested for the monthly box are calculated by an algorithm that takes into account the information entered by the owner about their pet - such as breed, age, weight, diet, etc. The algorithm also estimates the quantity of food required for the pet for a month.
Completely personalized experience
Once the pet owner logs into Pet Buddy and enters his pet characteristics, the algorithm estimates the needed quantity of food required for the pet for a month and gives recommendations to the pet owner.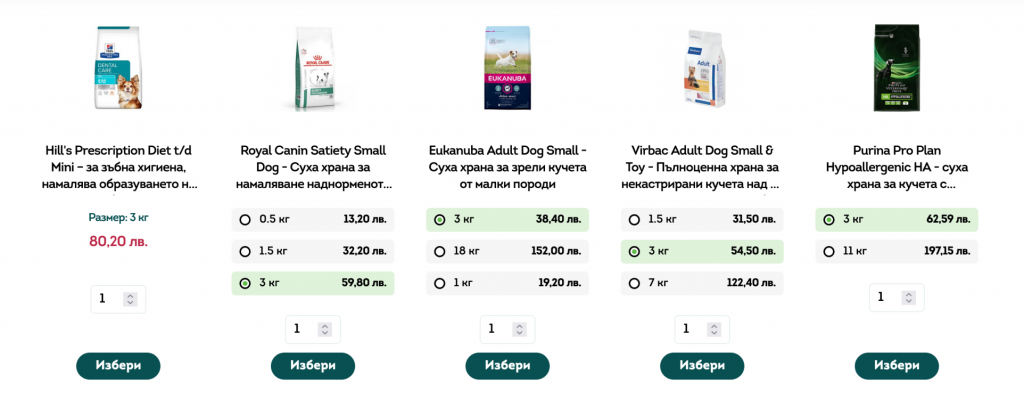 Vet and medical record
Free consultations with a veterinarian by phone or online
Vaccination and deworming schedule reminders
Maintaining an electronic health record of the pet that could be filled with the examination findings from the vet visit written by the veterinarian.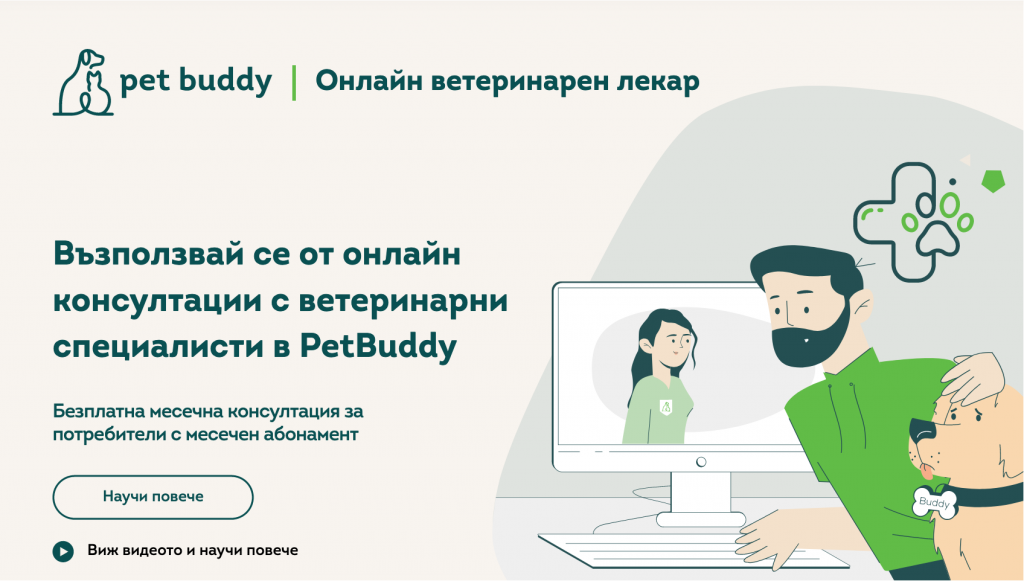 Fulfilled requirements included:
Fully personalized and customizable monthly boxes
Vet appointments
Medical records and reminders
Dynamic discounts based on a complex set of rules
Subscriptions
Frictionless, easy purchase experience that functions across channels and provides flexible options to customers 
A mega, sticky menu
A promo-code engine to drive marketing campaigns.
Custom data collection and stats
Marketing automation solutions like Klavyo integration

Service
Digital Strategy, UI/UX Design, Front & Back-end Development, Subscriptions

Starting a Subscription Box Service
Are you looking to start your subscription box service? Now might be a perfect time. There are thousands of boxes on the market, but there are still some untapped niches to discover. Research and curation is the first component of launching your box, so start with your ideas and look into competitors, ideal customers, and products you can offer.
The next step to success is to find the right technology partner. AirDesigns is different from the other development companies out there. We take an entirely new approach to building custom products - engineered for quality, simplicity, and transparency. Learn more about our approach, promise and guarantee, and then decide for yourself.
Get the most out of your online store in 2022
Don't miss the opportunities. Get in touch with us for a free review and consultation, and learn how we can help you start and grow your online business.
Set a discovery call via Zoom