The Challenge
Octo Labs sought to streamline social media management processes using technology that could automate many of the daunting tasks of running social media. Their vision was software as a service (SaaS) platform offering a powerful suite of social media scheduling tools and graphic design automation.
Strategic Planning
In March 2017, a group from Octo Labs met with a team from AirDesigns. They explained their vision and ideas and scoped out their business model. About a month later, that same group spent a couple of days whiteboarding everything and creating the project roadmap. After timelines, budgets, and scope were agreed upon, we spun up a team of UX experts, UI designers and developers to start tackling the project. Daily standups between the members of the team have kept the project running smoothly. Additionally, the product owner and project manager have weekly one-on-one check-ins to ensure the project is adhering to the roadmap.
Services
Strategic Consulting | UX / UI Design | Custom web development | API integrations | Subscription based payment system | Quality Assurance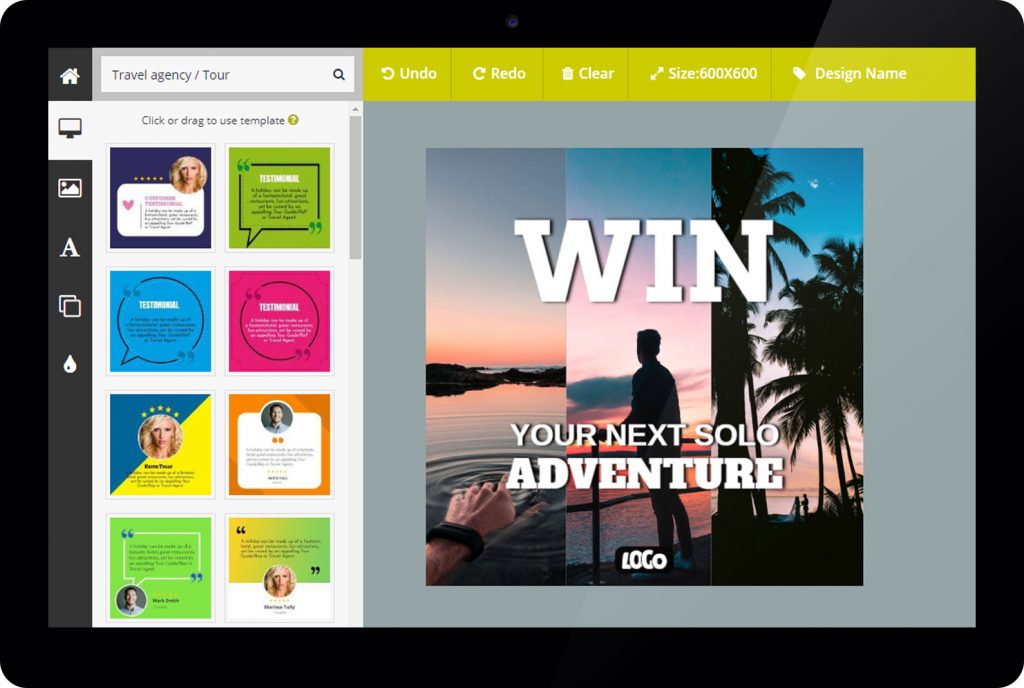 The differentiators
We start by asking strategic questions and brainstorming alongside the Octo Labs' team. Then we built several features that would differentiate the new platform from the other competitors on the market. We recognized the need for creating a tool that would conveniently coordinate all publishing activities on Social Media. Other social schedulers delete submitted posts once they're posted – Octo Labs platform saves them forever to put them on autopilot.
The flexibility was the other missing piece in the puzzle. Competitor tools offer just a few options for scheduling and automation while DigitalOcto gives a huge range of possibilities from immediate publication, to schedule for a particular date and time, to scheduling multiple times at different time frames to using twice a year during a particular holiday like Easter or Christmas for example.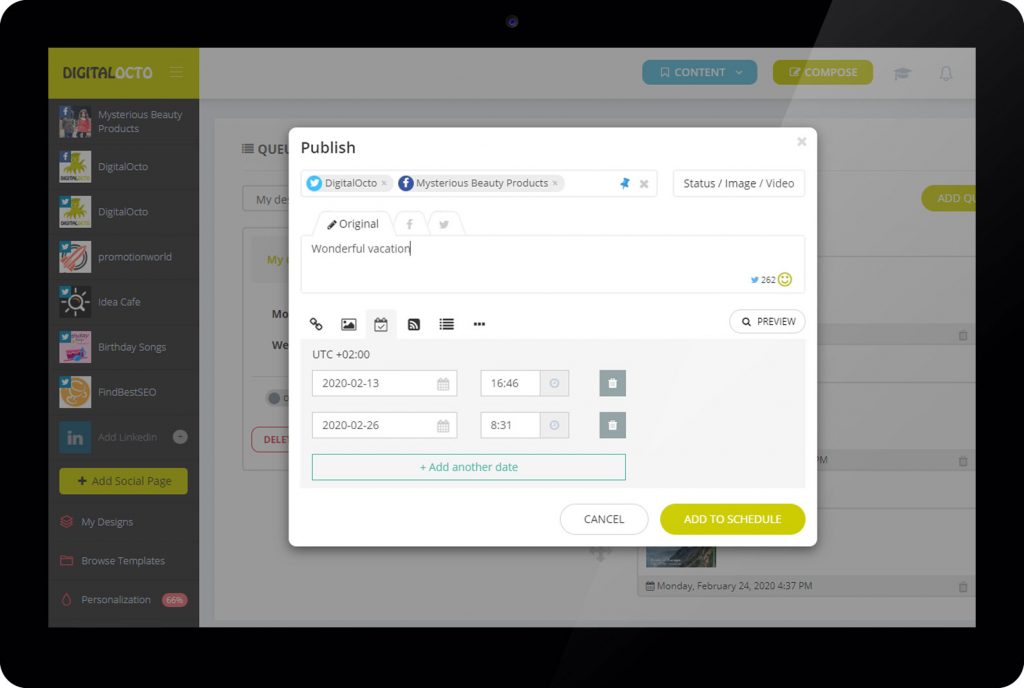 Solution: making managing social media more efficient
We worked with Octo Labs to create a web platform that allows individuals and businesses to schedule content for multiple social networks simultaneously and then to put these updates on autopilot so that they can be reused overtime automatically. Users select the type of content, the social networks, the type of queue and push the schedule button. For visual posts, users just have to choose one of the thousands of pre-made templates to make their graphics and then move the image to the queue. Not only does this reduce the headaches of users, but it also significantly cuts down the time involved in running social media.
Filling the gaps to create a complete user experience
The heart and sold of any social media presence are the visual content – images, graphics and messages that capture the eyes of the scrolling social media users.
Most of the people who are responsible for managing their company's social media presence do not know how to make engaging graphics.

Problem Solved:
We created a drag-and-drop graphic design tool with an extensive library of pre-made design templates that can be personalised with just a few clicks and then put in a queue for autopiloting distribution.
With the help of the latest technologies, we developed features that allow users to automate tasks like extracting branded colors from a logo, magically resize the graphics, generate quote graphics automatically based on several preset requirements, etc.