Starting an ecommerce store? This checklist will help you plan every detail.
As a long-time web marketer and UX designer (since 2000 – that's like 100 internet years!), I'm a bit of a stickler for things that impact any digital efforts. When it comes to eCommerce websites, it's all about functionality, features, and design.
The right mixture of them and your eCommerce will flourish. Poor websites never do the job they are made for. Aside from actual marketing campaigns, there is nothing that impacts a site's performance more than the development and design.
In fact, a site with excellent on-page optimization and strong marketing campaigns will always suffer under a poorly coded site architecture and/or design.
The simple truth is that the web design and development of your eCommerce can be the difference between a sale and a quick bounce from your site.
Related: 6 Tactics for Success for Retail Brands In the Post-Pandemic Era
Many eCommerce website owners make the critical mistake of assuming that traffic equals sales and that if they increase traffic, sales will increase at the same rate. But this simply isn't true.
If your site isn't optimized for conversions, it's like pouring water into a leaky bucket. No matter how much water you dump in, you can never fill the bucket. The same goes for site traffic. If your site isn't optimized, traffic will "leak" out without turning into sales.
In light of that, I have created a list of features and functionalities (over 100!) that you can use to determine the scope of your eCommerce development project. By thinking through these features early, scope creep is kept to a minimum and ensures that your final product is exactly what you want.
While reading, you can write down the features you will need and go to our eCommerce website calculator to get an idea of the cost.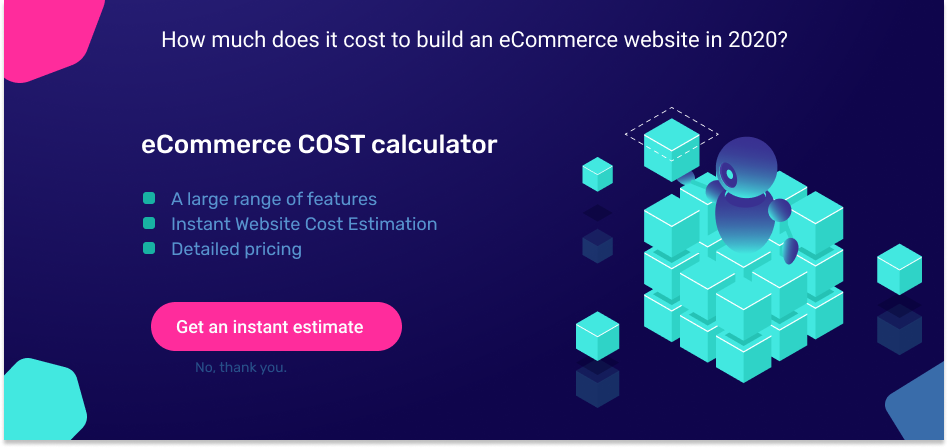 Ready? Let's get started.
Categories
The Category page groups individual products together based on a similar theme. Having well-structured category pages is important for every eCommerce brand as it makes product exploration easier for customers and improves rankings for specific keywords. This generates higher sales and better conversions as a result.
Tips: Put a lot of thinking into how to group your products. This is essential for how quickly and flawlessly your visitors will find what they are looking for.
Think carefully about the main categories you can divide your pages into that are:
Descriptive of what the different pages and products are
Intuitive to any visitor to your website.
As an example, for an online bookstore it may be possible to divide your products into categories like length or the color of the book covers, but most visitors to the website will find it more intuitive to see your products divided into categories like Fiction, Nonfiction, and common genres.
In other words, don't choose your categories arbitrarily; they should be based on information that's valuable to your customers. Think first about the way they search and browse, then structure your website based on that.
If you still have too many products in a single category, then add yet another level of hierarchy to the website: subcategories.
The final element on a category page is the Filters. They help customers narrow their options until their search results are more manageable
Here is an example of a really beautiful category page that follows best practices: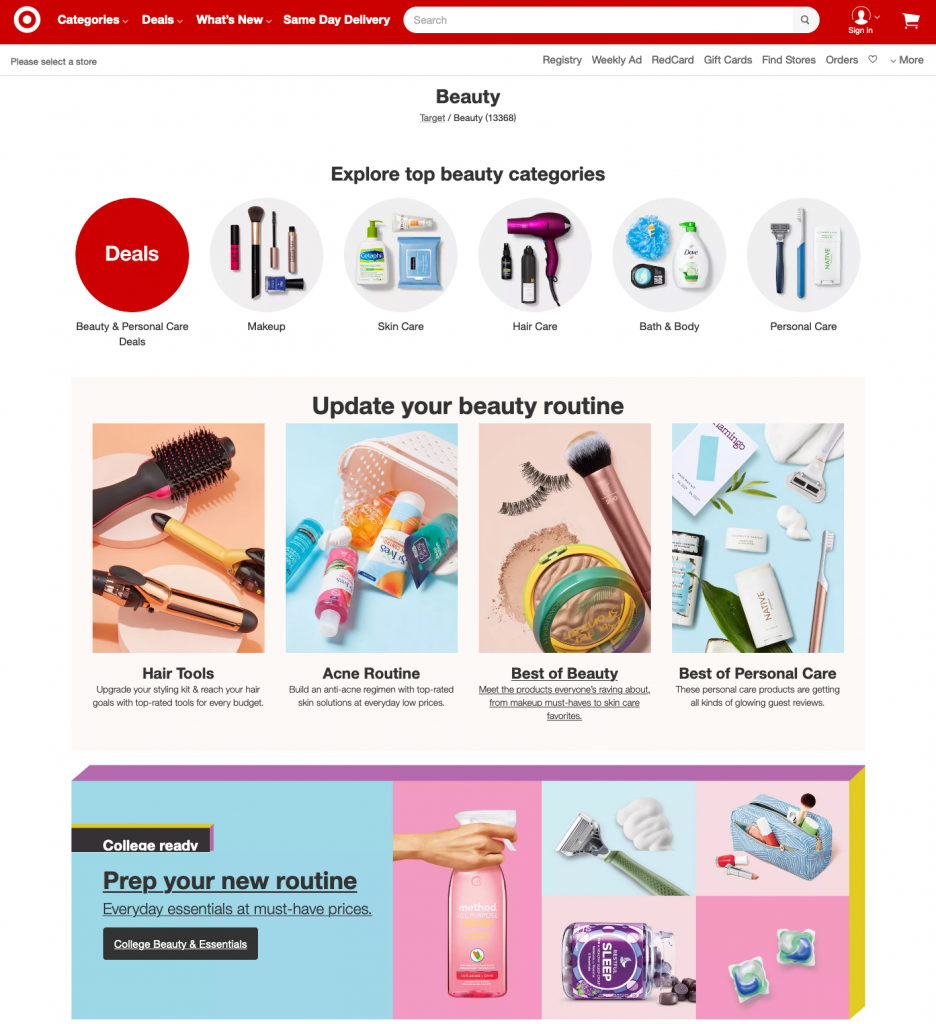 Why I liked it: Target.com uses a clean and clear design that promotes subcategories while using different product lists to target users by preferences.
Features and functionalities:
Search and sort to easily find categories
Manage categories and sub-categories
Feature categories within navigation or on the homepage
Set categories as "active" or "inactive"
Set page URL's and SEO elements for categories
Manage categories thumbnails and images
Brands
If you offer products from different brands, use them as another way for visitors to find products. People tend to buy products emotionally, just because they have a strong connection with a brand.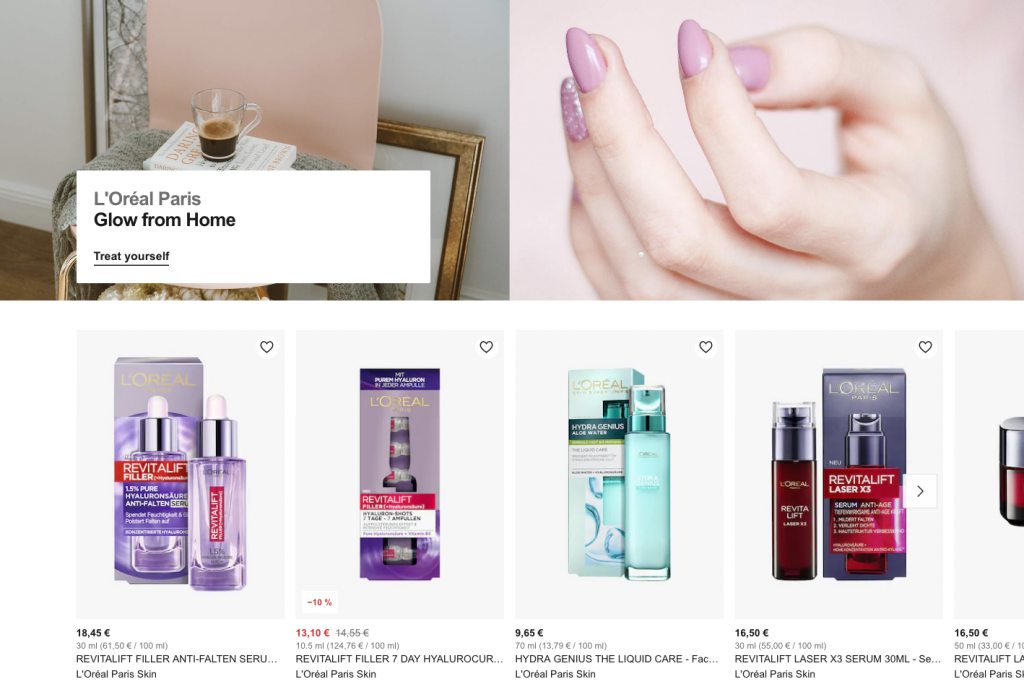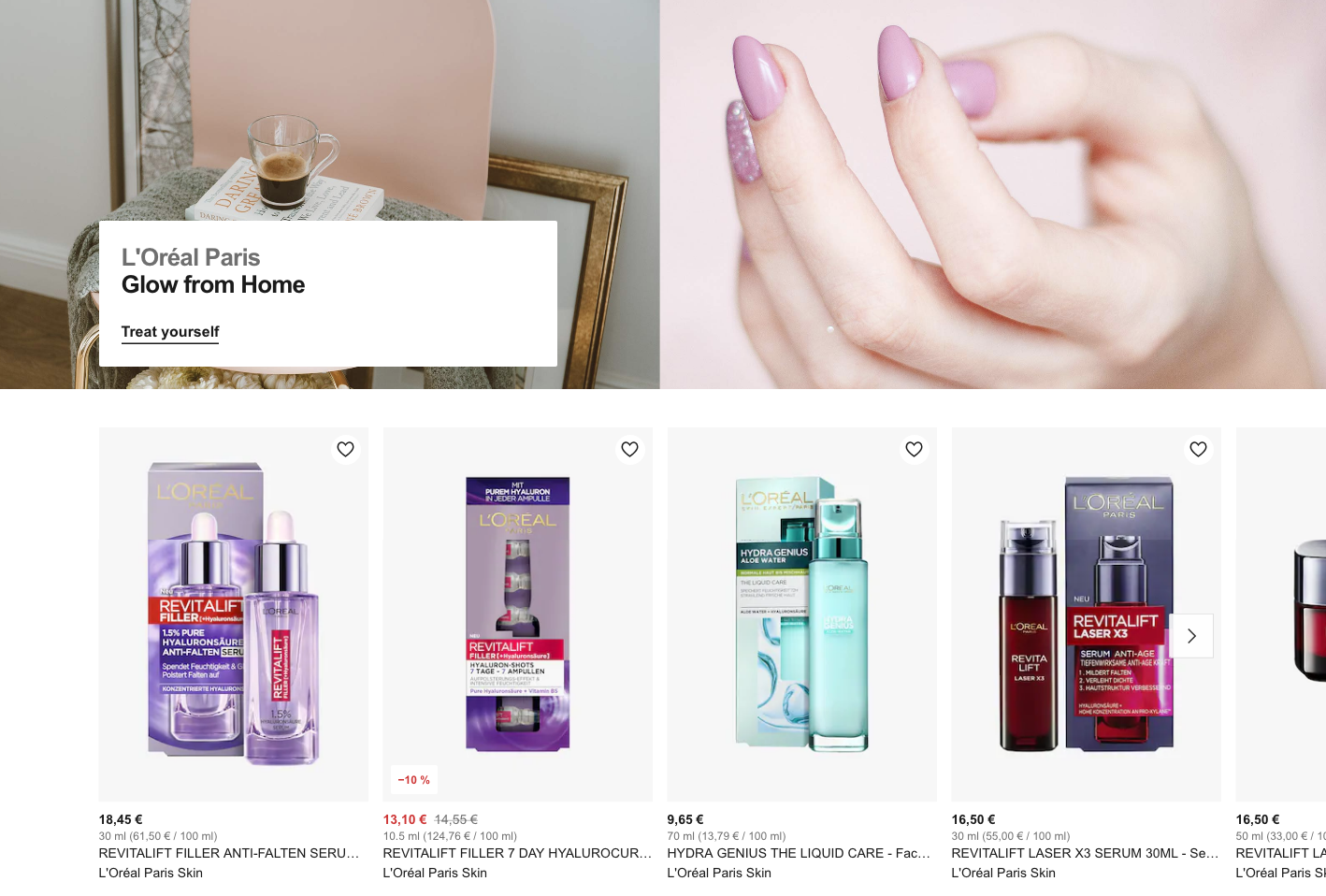 Features and functionalities:
Manage brands
Feature brands on the homepage
Set brands as "active" or "inactive"
Set page URL's and SEO elements for brands
Manage brand logos
Products
Product pages are the most important part of your store. They inform customers about your products and entice them to buy from you. They help with your search engine rankings. They convert your visitors into buyers.
Related: How Much Does it Cost an Ecommerce Website In 2020 (Time to Stop Making Excuses)
Old eCommerce design trends revolve around the idea that shoppers start at the site's homepage and then find the product they're looking for. While this still holds true for some shoppers, ads and social media posts often direct shoppers straight to a product page or a promotional landing page for a group of products.
Trend: Modern product page designs look more like a landing page. They are like mini-stores, centered around a single product or category with clear navigation that makes it easy to explore the rest of the site.
Here is an awesome product page that has everything the customer need: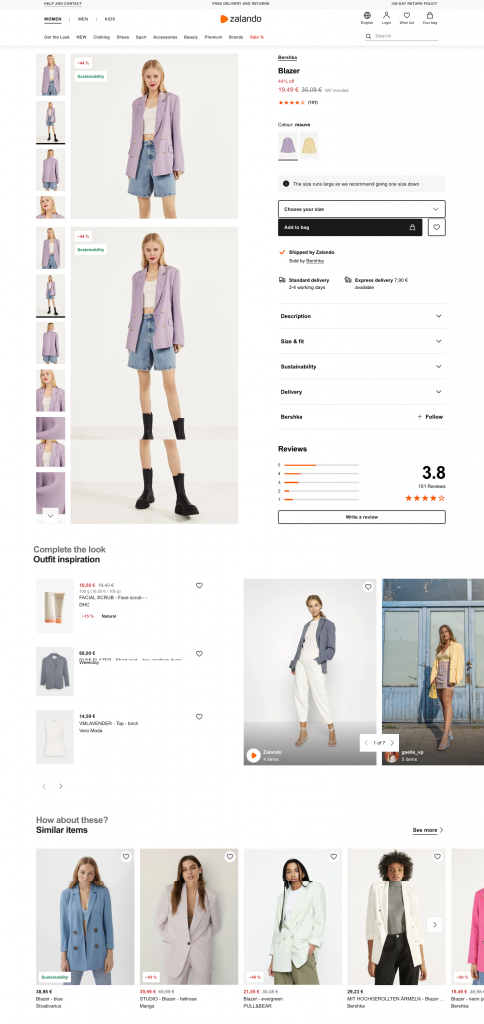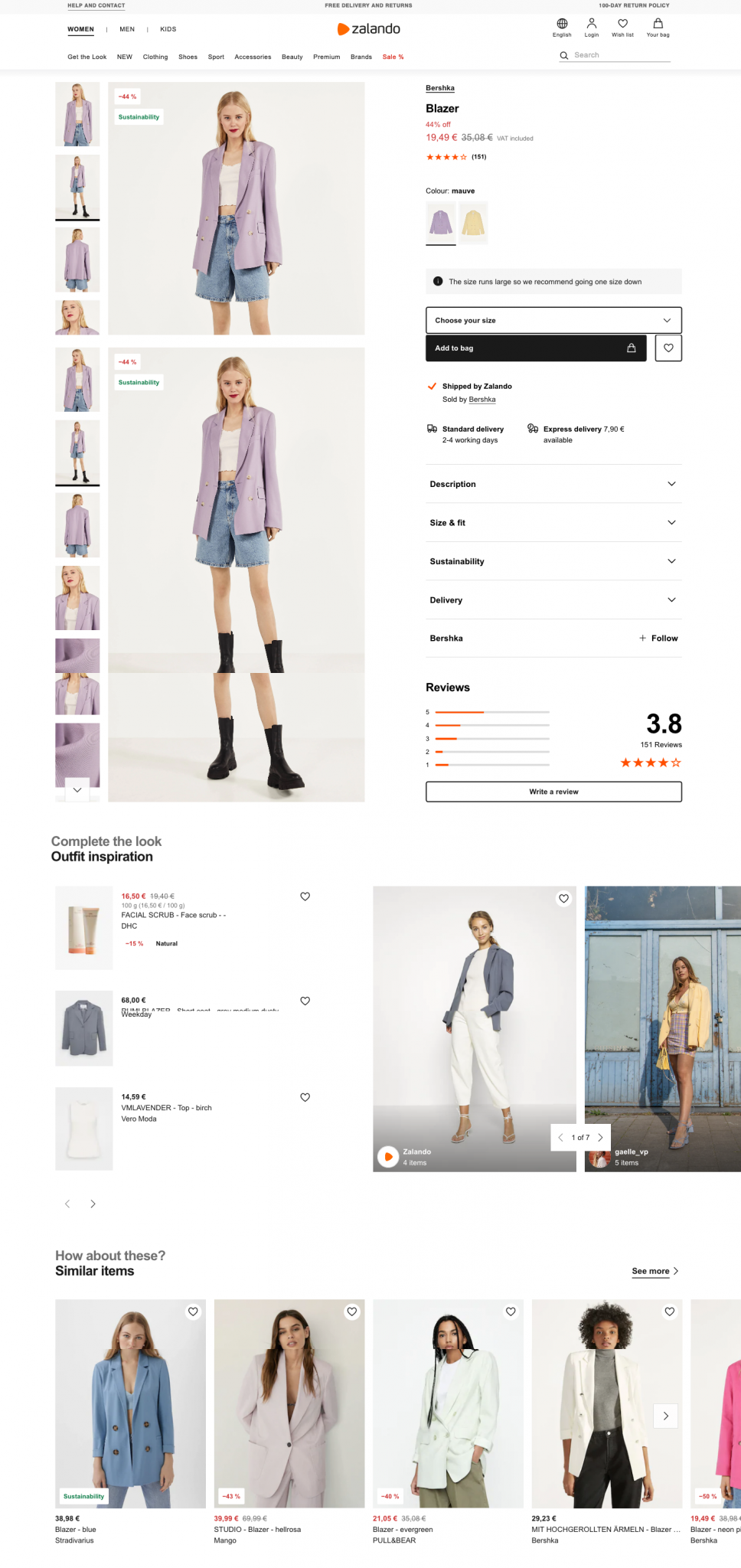 What I like? The page started with a very important info: Free delivery and 100 day return policy. Followed by a great presentation of the product, customers reviews – very important element that can significantly improve the conversion rate. Next – they offer additional things that go well with the selected product trying to upsale the customer.
Features and functionalities:
Search and sort to easily find products in certain categories or with specific attributes
Easily manage and edit products
Product fields include name, SKU, product details, additional details, list price, price, weight, stock, minimum quantity order amount, handling fee, and more.
Ability to select options such as featured, free shipping, reviews allowed, require moderation for reviews and more
Add and manage the main product image and additional product images
Microsoft Word-like editor for managing content block, such as product details
Feature products on the homepage
Set products as "active" or "inactive"
Add products to a single category or multiple categories
Select product brand
Add and manage product options and option groups
Add and manage related products
Add and manage accessories
Attach and embed YouTube videos
Manage (approve and delete) product reviews
Set product page URL and SEO elements for products
Content Management
Pages
Many factors are involved in the success of an e-commerce website, but if your store doesn't have these pages, visitors may not feel safe enough to give you their personal details and use their credit cards to pay for your products.
Tip: Even the simplest eCommerce website should have the following pages:
About us
Terms and conditions
Shipping and cancellation policy
Payment terms and payment confirmation
Privacy and Cookies Policy
FAQ & Help
Contact us
Features and functionalities:
Manage content pages and create new content pages
Edit pages using a Microsoft Word-like content editor
Add images and manage uploaded image library
Image editing and cropping tool
Set page as "active" or "inactive"
Set page URL and SEO elements
Blog
Among the numerous search engine optimization (SEO) tools in your arsenal, blogging is one of the easiest and most powerful ways to boost your eCommerce site.
If you're still on the fence about this powerful marketing tool, consider these stats:
61 percent of U.S. online consumers make purchases based on recommendations from a blog
60 percent of consumers feel more connected to a company after reading unique content on its site
Tip: Do not start blogging if you do not have the resources to maintain it. If you can commit to at least one article per week, you are good to go. Otherwise, leave it for later.
Features and functionalities:
Manage blog posts
Set blog publish date
Set post as "active" or "inactive"
Add blog summary and full blog post using Microsoft Word-like content editor
Add images and manage uploaded image library
Select blog category and author
Attached blog posts to product pages
Set post URL and SEO elements
Homepage Banners
Homepage banners are an essential component of an eCommerce success.
Trends: The latest trends in the design of the eCommerce homepage is creating a series of banners bigger and smaller ones that feature different promotions and change every 3 weeks or so, rather than showing categories and individual products.
This way customers learn to come back and see what's on sale. On the other hand, you as a business will be able to plan and employ great selling tactics – you can make promotional collections grouping products based on seasonality, gender, brands, etc.
If you know your customers, this approach will help skyrocket your sales. If you are just starting, you can experiment until you find what works for you and your customers.
Here is a great example: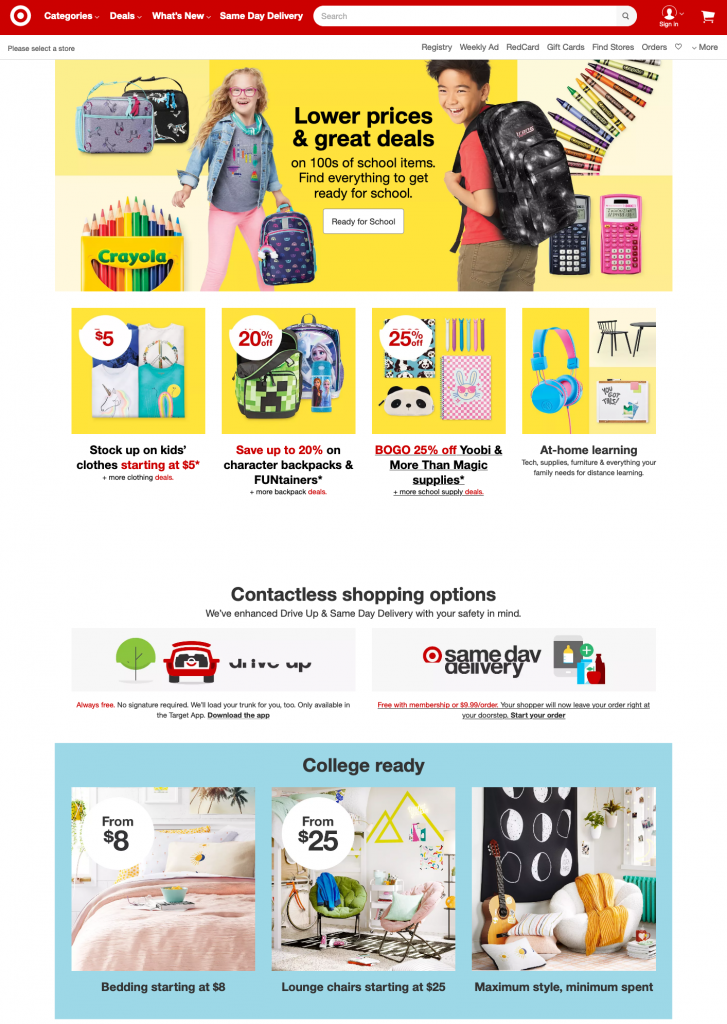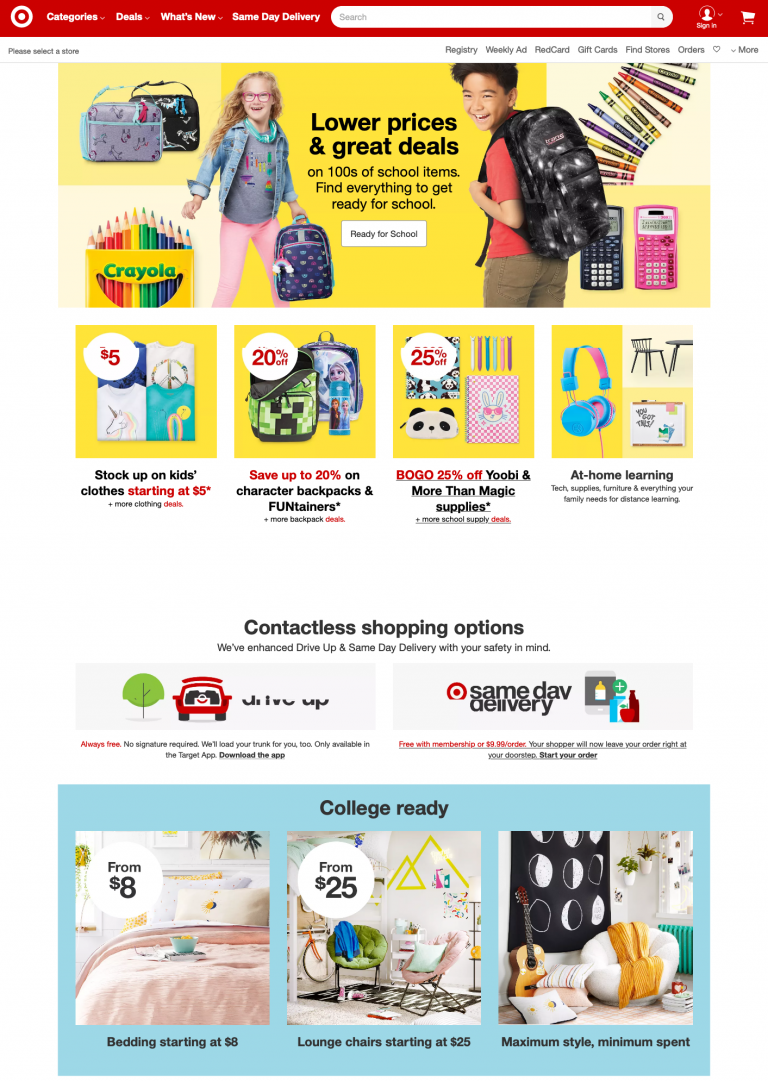 Tips: Having a system in place that will help you spend less time in managing banners and promotions and more time planning and designing them, is something that growing businesses and established brands want to have in their marketing arsenal.
Features and functionalities:
Manage homepage banners
Set banner sort orders
Set banner URL or leave unlinked
Set banners as "active" or "inactive"
Advanced options
Manage banner promotions – starting date, expiration date, adding products that will be included in this promotion, images for home page and the landing page for the promotion
Tip: At least 45% of the traffic lands on the homepage. The home banners will make or break your business. So investing in more advanced options for managing your promotions and landing pages from the very beginning will give you a jumpstart.
Navigation
There are typically two types of navigation designs you will find on eCommerce sites – site navigation at the top of the page situated directly under the search bar and company logo, and site navigation on the side of the page, most commonly known as the left rail.
Tips: Don't' get creative when it comes to navigation. Stick to conventional navigation organization for better usability. Putting the most important elements in familiar places increases navigation efficiency.
Trends: Megamenu featuring categories, subcategories, and promotions is still the best option for web versions of the eCommerce.
Here is such megamenu we design for one of our clients:


When it comes to responsive design, some eCommerce platforms stick to the hamburger menu, which is most recognized by the three horizontal lines.
However, considering that 94% of smartphone users hold their devices vertically, web designers are starting to situate navigation buttons at the bottom of the screen to facilitate thumb use.
Mobile trend: This is why thumb navigation for mobile becomes commonplace.
Features and functionalities:
Manage your main navigations including header, side, and footer
Add drop-down to main navigation
Manage SEO elements on links such as link title
Set links to open in same or new window
Auto Email Messages
Email always wins when it comes to communicating with your customers. According to Venture Beat, companies that adopt email automation, conversions have a 77% chance of rising.
Not bad, huh?
Let's take a look at the five automated email flows that every e-commerce store needs to set up and optimize, so as to keep audience members engaged and advancing along the sales funnel.
Welcome Series
Abandoned Cart Reminders
Post-Purchase Follow Up
Re-engagement Prompts
Upsell Offers
Tips: No matter where you are at with your store right now, automation emails are a must.
Features and functionalities:
Manage main email template design
Set messaging for order status emails
Set messaging for thank you email on product reviews and blog comment submissions
Review Management
The biggest reason why ratings and reviews are important to an eCommerce business is that they can ultimately lead to increased sales by giving customers another opinion on a product or service they are considering to purchase.
88% of customers put as much weight on online reviews as they would on personal recommendations
Features and functionalities:
Manage all product reviews
Set reviews to "approved" or delete reviews
Comment Management
Tips: Comments are really hard to manage. They can take too much time of your precious time, so they are not the best option for a starting eCommerce.
Features and functionalities:
Manage all blog comments
Manage all product page comments
Set comments to "approved" or delete comments
Customer Management
Reliable customer service has always influenced buying decisions so you have to take it seriously.
The approach to eCommerce service differs slightly from brick-and-mortar settings. Since reps can only call or chat, you need to anticipate roadblocks that users will experience during the buying process.
That requires you to consistently obtain customer feedback and analyze it for common user pain points. Once you understand these variables, you can install proactive and self-service features that guide visitors through the customer journey.
Tip: When your business starts growing, CRM (Customer Relationship Management) is essential to keep your growth. The goal of CRM is to get better results from every customer interaction. It can help improve customer retention, develop better approaches to marketing, sales, and customer service, make smarter decisions like inventory, etc
Customers
Features and functionalities:
Search and sort to easily find customers by first name and last name
Manage customer accounts
View customer details and previous orders
View individual customers product reviews
Add private comments to a customer
Delete customer accounts
Reset customer passwords
Export customers to Excel
Export customer subscribed to email newsletter to Excel (import capabilities for 3rd party email systems)
Order management | Fulfillment
To make the online shopping experience as enjoyable as possible, it's important to process orders as efficiently as possible.
From the time that a customer places an order through your store to the time that they receive the order, your brand is held accountable for delivering the goods in the shortest time frame.
Did you know that:
53% of shoppers say that speed of delivery is an important factor when it comes to evaluating their online orders.
38% of shoppers will never shop with a retailer again if they had a poor delivery experience.
25% of shoppers have canceled an order because of slow delivery speeds.
To keep costs as low as possible, it's important to have a clear process flow for your employees to follow. This will help maintain the smooth running of your online store's operation.
Inventory
Before you can fulfill orders from your online sales channels, you need inventory. Inventory storage, also known as warehousing, is the organization and storage of your products.
Proper inventory storage will keep your products secure and protected and help give you visibility into what is available to ship to your customers.
Challenge: Manual management of the inventory doesn't allow for scale. When you're in the early stages of building your ecommerce business, it's relatively easy – and tempting – to manually track and fulfill orders, even across multiple channels. But it becomes much, much more difficult as you work to scale your business to meet the growing demands of your customer base.
And while starters can try to manage their inventory manually, for larger operations, WMS (Warehouse Management System) is a must.
Tip: Throughout the order processing journey, there are many areas where various factors can cause delays. To help automate this stage of the order fulfillment process, consider using a WMS (Warehouse Management System). Not only will using a WMS automate various processes in the inventory assessment, collecting and sorting phases, but it'll also decrease the propensity for human error.
Orders
Once an order has been submitted, it will get processed. These steps involve picking, or the retrieval of items from where they are stored, and packing, or getting the order ready to ship.
Features and functionalities:
Search and sort to easily find orders by specific variables
Manage and updated order status
View order number and all customer information
View order information and purchase details (products, tax, shipping, addresses, etc.)
Add private notes to the order
View shipping and billing address maps
Create and manage custom order statuses
Receive an email when order is placed
Export orders to Excel
Shipping options
Once the order has been processed and is ready to send, the merchant must get it shipped.
61% of shoppers will abandon their cart if shipping, taxes, and other fees are too high.
This may involve a run to the local post office or UPS Store, or having a carrier pick up the orders from the fulfillment location.
Features and functionalities:
Set store static shipping rates based on weight, dollar amount and zone
Set specific price or percentage of order
Live shipping rates based on shipping address utilizing UPS, USPS and FedEx
Set and manage shipping discount codes and promotions
Set free shipping on individual products
Set your stores origin of shipment zip code and country code
Active and deactivate shipping carriers
Manage UPS, USPS & FedEx available shipping services (ground, first-class, express, etc.)
Discount & Promotion Management
Discounts and promotions are something every e-commerce business owner should think about carefully.
It's tricky because you have to keep your profit margins high, while your customers expect big discounts to keep coming back or start shopping with you in the first place. Using too many discounts, or the wrong type of discounts could seriously cut into your profits. So be careful.
Tip: Increase average order value (AOV) with bundled discounts instead of simply offer discounted products.
Tip: Free shipping is a popular discounting and promotion strategy many e-commerce owners opt for, and many shoppers expect.
Features and functionalities:
Create and manage discount codes
Add discount codes to categories, brand or products
Add discount codes that affect shipping
Set codes as "active" or "inactive"
Ability to set percentages off, amount off or a set price
"Auto Apply" discount codes when product added to cart option
Set and manage dates code is active
Set minimum and maximum quantity requirements for discount codes
Set number of times code can be used before automatically becoming inactive
Reporting
Dashboard
Features and functionalities:
Interactive administrative dashboard with charts and statistics
Ability to change dashboard statistics to reflect specific date ranges
Dashboard date-range reports include store sales by amount, store sales order volume, new customers vs. returning, top-selling products, top-selling brands, most used discount codes
Dashboard general reports (not based on date range) include low inventory reporting, total products in-store, total categories in-store, customer count, lifetime orders and lifetime revenue
Single Reports
Features and functionalities:
Single reports, outside of the dashboard, include sales by date range, top-selling product by date range, low inventory by the quantity, and new customer by date range.
Search Engine Optimization Management
Search engine optimization has the potential to boost your e-commerce site's sales and revenue and make you the market leader in your industry. And the good news is that your investment in SEO will even pay for itself in a very short time, while its effects will last for many years.
And believe it or not, on-page optimization should be done along with the coding of the website. Otherwise, you will have to pay to rebuild the site in a way that is well optimized.
Tip: If your development company isn't involved in SEO field, ask an SEO agency to prepare a list of tasks and rules that should be done during the development phase to make sure that your website will be well optimized and follow the best SEO eCommerce practices.
Dynamic Titles
Features and functionalities:
Manage all dynamic title tag structure throughout the website
Configure dynamic title and META tags for categories and sub-categories
Configure dynamic title and META tags for brand pages
Configure dynamic title and META tags for product pages
Specific Titles & Meta Information
Features and functionalities:
Configure site-wide default title and META tags
Configure homepage title and META tags
Set unique title, META tags and URL information for specific content pages, category, brand or product pages
Settings
Payment Options
Multiple payment options (Credit card, PayPal, PO, Terms, etc.) is something that your users expect.
Features and functionalities:
Active and deactivate payment types available
Manage Authorize.net account settings
Manage PayPal account settings
Allow offline payment option
Taxes & Locations
Features and functionalities:
Manage countries available
Manage tax rates for each US State or Canadian province by percentage
Activate and deactivate countries
Set shipping zones per state or province
Email Configuration
Features and functionalities:
Set email server configuration and store email address
Fields include server name, server port, username, password, enable SSL and store email address
Administration Users
Features and functionalities:
Add and delete administration logins with name, email and password
Other
3rd Party Integrations
Making an eCommerce website work with an ERP or other third-party systems can often cost thousands but will set your business for growth and success.
What is a 3rd party integration? Almost all ecommerce websites require some level of third-party support.
Examples of 3rd Party integrations and custom functionalities
Shipping + Fulfillment: Shipping Easy, Shipstation, Aftership, Narvar, Dropstream, NRG (Filemaker), Woo Shipment Tracking
Accounting: Xero, Freshbooks, Quickbooks
Payment: Sezzle, Afterpay, Affirm, Apple Pay, Stripe, Amazon Pay, Paypal
Email Marketing: Mailchimp, Kylavio, Drip, Convertkit
Tax: Avalara, Avatax, Taxjar
Inventory: Unleash, TrackGecko, Apparel Magic, Accumula, Webgility
CRM: Hubspot, Salesforce, Pardot, Insightly, Agile CRM, Infusion soft, Freshdesk
Product Review: Yotpo, Wiremo, Stamp
Gift Card: Pimwick
Video: Youtube, Vimeo, Wistia
Analytics Tracking: Google Analytics, Hotjar, Mouseflow, Glue
Other: AWS, Gravity Forms, Advanced Custom Fields, ReferralCandy, Woo Subscriptions
ERP Integration
What is an ERP? ERP (Enterprise Resource Planning) is software that manages your inventory, shipping ("3PL"), invoicing, and other back-office services.
Do I need an ERP Integration? If you run a small ecommerce, then you probably don't need one. When your business starts to generate a lot of orders, then it may be the time has come to consider an integrate ERP.
Examples of ERP Systems: Sage, SAP, Microsoft Dynamics, Netsuite, Apparel Magic, Filemaker, Oracle
What are some of the benefits of Ecommerce ERP Integration?
Reduce manual entry to save time and increase throughput while reducing errors, when entering order, inventory, item, customer and shipping data
Streamline inventory synchronization, track updates, and provide accurate inventory levels to customers, without hiring staff to manage these tasks
Automatically notify customers when orders have been shipped and allow them to track the delivery of products
Simplify how you manage price and product changes to inventory
Have flexibility to add multiple online and offline sales channels, without losing operational efficiency
Meet tax requirements with automated tax compliance and eliminate exposure
Handle increased demand in online orders without extra resources
Flexible system
As with any living creature, your eCommerce platform will evolve constantly.
Better visuals, better technology, and better communication – the three ingredients of a successful eCommerce.
Request a free consultation
If you want to get your ecommerce right from the very beginning, talk with us and see how we can help you choose the right features and technology stack for your business.
Get in touch or Schedule a call
Have you enjoyed this article?
Get our insights delivered directly to your inbox every month. No SPAM, we promise.