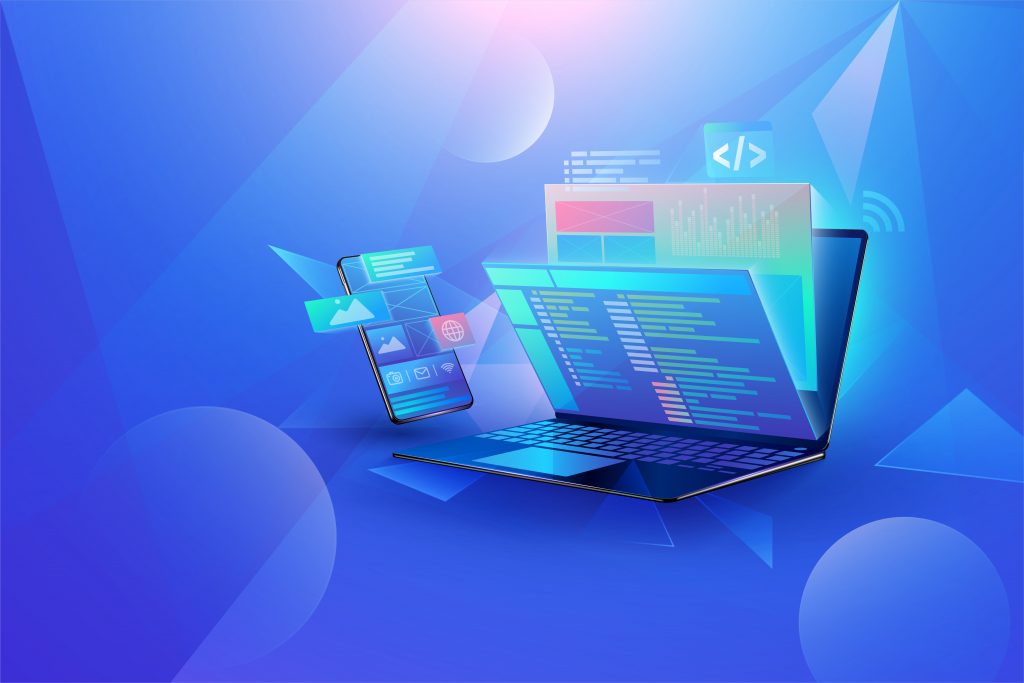 To run a healthy business with revenue streams coming in constantly is a massive undertaking. There are many things to consider: innovative business model, market domination strategy, culture, unique selling proposition, people, customer relationships, supplier expectations, overhaul infrastructure. The list is long and full of critical decisions to make. It could be an overwhelming experience. But it's worth doing.
In the age of the cloud, smart businesses shift to a new paradigm. They do not build an expensive digital ecosystem on their own but rather leverage the tech platforms available on the market to develop their app and digital presence in an entirely new way.
Even non-tech, traditional industries should start thinking differently if they do not want to be the next hotel caught completely off guard by Airbnb or a 100-year-old, brick-and-mortar food chain left behind by brands utilizing modern technology to offer frictionless user experience across channels.
The central question is not whether you will embark on a digital transformation journey but rather how you will go about making it happen.
Focus is everything
Ultimately, there is no blueprint for it. Still, I think one fundamental principle should guide your decisions: focus on the core assets of your market-dominating strategy and add technology to handle the other aspects of the business.
Let me illustrate this with Uber. They have enjoyed tremendous growth, but what exactly their core asset is when they do not own the cars and do not directly employ the drivers. The answer is simple: the core application and ecosystem around the Uber experience is their primary asset and key differentiator (define them in your strategy). But to really focus on that experience, they count on other technologies and platforms to power many key elements.
They run on the Amazon infrastructure to make sure they are up and available worldwide and can scale fast. As a mapping technology, they utilize the Google Maps APIs that come in with features like finding the shortest route, knowing the exact locations of the cars and the customers, etc. Uber uses the payments stack from Braintree to offer flexible payment methods in a secure environment. Their messaging stack is provided by Twilio, guaranteeing the text messages get delivered right when a driver has arrived for a pick-up. And their email service is built on SendGrid APIs responsible for sending out receipts to passengers, etc.
All those platforms and tools are leaders in their respective fields. They innovate quickly always to make sure they offer world-class services to their customers. By using all those techs, you automatically get the benefit of those innovations in your own business.
Another benefit of this approach is freeing resources from the ongoing maintenance of these non-core elements of the stack to allocate them to build your core competency.
It also speeds up the process of getting the initial application built.
When applying the same logic and mindset to your business, ensure that your tech stack covers essential aspects critical to your app, marketing, and business operations and leaves enough resources for building your core assets.
Put strategy before technology
As a thumb of rule, always put strategy before technology. With thousands of solutions to choose from, it's vital to understand how the right tech stack will impact your business and which technologies will be fundamental to reaching your goals.
In an ideal world, there would be a one-size-fits-all tech stack that could work for any business. But the reality is different.
Your chosen technologies will be impacted by factors like your budget and the type of business. Apparently, B2C companies will likely require slightly different technologies than a B2B company since they each typically use different business models and marketing channels to acquire and engage with their customers.
An excellent example to illustrate this concept is Intercom. The philosophy of their stack is to use Intercom as their default, and then to complement when the need or desire arises. They started with a basic setup of WordPress and Google Analytics and over the years their marketing strategy has evolved into a sophisticated stack of over a dozen tools.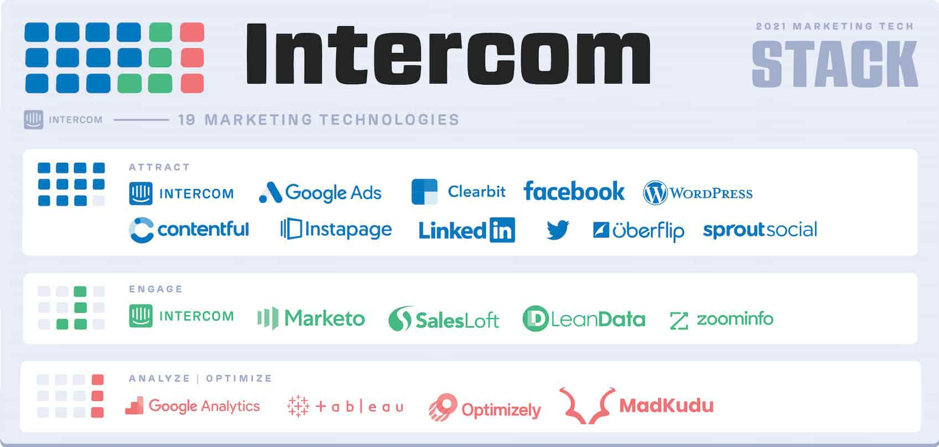 The four layers of the tech stack
You'll better understand the required tools when you look at those four layers that cover different aspects of your business:
Marketing and Advertising Layer
In an increasingly complex marketing environment, the marketing technology stack is critical to your company's success. The right tool can make all the difference in running your brand and marketing operations efficiently behind the scene.
There is a tool or platform for every aspect of your marketing strategy: from coordinating and executing campaigns to leveraging existing content to attracting and converting customers.
However, putting together the right set of tools and technology may be particularly challenging. With so many competing options, features, and interoperability concerns to think about, piecing together your techs may feel like navigating a minefield.
Tools & Technologies for Search Engine Marketing:
AdWords, Bing etc.
Webmaster Tools
Moz & Ranking Trackers
SpyFu & Competitive Intel
Wordstream & PPC Automation
Kissmetrics & Behavioral Profiling
Raven Tools & Reports Automation
Tools & Technologies for Display Marketing
Media Buying Platforms
Premium
Demand Side Platforms
Ad Exchanges
Ad Networks
Ad Servers
Mobile Platforms
TV & Video Platforms
And a LOT LOT more…
Tools & Technologies for Social Media Marketing
Buffer, Hootsuite & Social Agendas
Sprout Social & Agora Pulse
Social Bakers & SMM Analytics
Buzz Sumo & Trend Monitoring
BOTs & Follower Automation
Salesforce & Marketo
Tools & Technologies for Remarketing
AdWords & Facebook
AdRoll, Criteo
Retargeter
Chango
Perfect Audience
Tools & Technologies for E-Mail Marketing
Mailchimp, Mailjet, Klaviyo
Robly
Constant Contact
Get Response, Campaign Monitor
Aweber, Reply.io
Marketo & Salesforce, Hubspot
Digital Experience Layer
The digital experience (DX) stack is the backbone of technologies related to customers' interaction with a business. DX affects the whole customer journey, every customer touchpoint with a brand. The technologies facilitate a wide range of things: from the website to purchasing, customer service, delivery, work processes.
Several components make up the core elements of the DX stack, including, but not limited to: website, personalization, tracking infrastructure, A/B testing.
Tracking Infrastructure
Tracking user activity gives you an inside look at how people interact with your site and what obstacles or hooks they experience in their journey as your customers.
Tools and Technology for Tracking Users
Google Analytics, Facebook Pixel
Hotjar, Yandex Metrica
Google Tag Manager
Mixpanel & Event Based Analytics
KissMetrics & User Based Analytics
Clicktale
Tools and Technology for A/B & MVT Testing
Visual Website Optimizer
Optimizely
Unbounce
Kiss Metrics
Analytics & Adwords
Contentsquare
Tools and Technology for User Experience and VOC
Crisp
Zopim, Zendesk
Concept Feedback & User Testing
Survey Monkey
Yotpo & Review Collection
Buffer, Hootsuite
Salesforce
Back Office Layer
Back-office technology facilitates the management of your business and is critical because it impacts your whole company: customers, employees, and business profitability. Let's have a look at the role your back-office technology plays in your success.
Customer Relationship Management (CRM)
CRM tracks all customer relationships and marketing attribution for you and your sales force. Ultimately, CRMs are essential to gaining in-depth insights into how your marketing efforts impact your sales pipeline.
Hubspot
Insightly
Infusionsoft
Agile CRM
Salesforce
Important note! Always use cloud CRM!
Content Management System
CMS allows the business to handle the intricacies of digital content management. A CMS is a technology that powers your website, blog, landing pages, etc. These web properties are often where you want to engage your customers.
Tools to explore: WordPress; Hubspot, Drupal, Magento, PrestaShop
Running A Business With Tech
Teamwork, Asana, Trello
Skype, Slack
ADP, Peoplesoft
Salesforce, Microsoft Dynamics, SAP, NetSuite, Oracle
And many more…
Analysis and Activations Layer
The technology that helps businesses collect data to make decisions for their business.
The need to connect tools and teams
Be mindful about how a tool can solve your company's challenges. You won't need a tool for everything. The right tech stack will make your business smarter, more streamlined, and your team more efficient.
Have you enjoyed this article?
Get our insights delivered directly to your inbox every month. No SPAM, we promise.